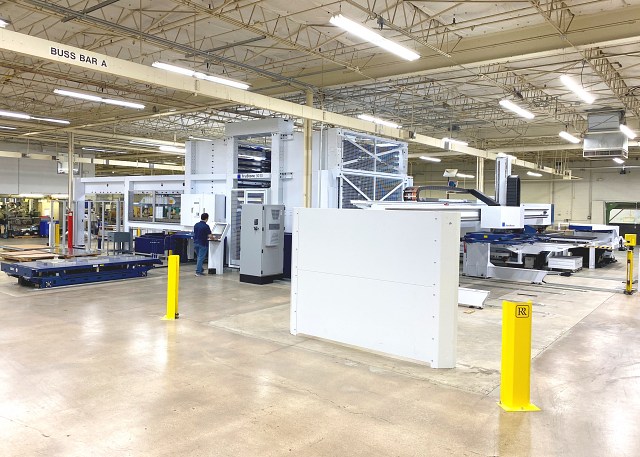 03 Jan

Regal Research Adds Second Automated Sheet Metal Cell

PLANO, TX , December 15, 2022 – Regal Research is very pleased to announce the purchase and successful installation of a second fully automated, 24/7 lights-out sheet metal cutting cell that features a high speed Trumpf 3030 high speed 8000 watt fiber laser, and a Trumpf 7000 laser/punch combination machine that are both tied into a fully automated Trumpf TruStore 3030 material storage and handling system at our 1200 E Plano Parkway facilities in Plano, TX. This resource expansion will nearly double Regal Research's sheet metal cutting capacity while providing a boost to its capabilities, which includes faster production, and active die capabilities to achieve higher quality emboss and louver features. "Creating the highest quality top-level assemblies requires starting with high-quality individual fabricated sheet metal and machined parts that are built to our customers' documentation. With the increased demand from long-term and newly acquired customers, this new Trumpf sheet metal cell will play an important role in meeting more stringent piece part requirements as well as greatly expand our capacity," said Mike Powell, Board of Directors member at Regal Research and Manufacturing.

About Regal Research and Mfg Co:

Regal Research and Mfg Co is a Plano, TX based contract manufacturing firm that provides full service mechanical parts fabrication and product manufacturing to the Industrial Controls, Medical & Mobility Carts, Aerospace/Defense, and Semiconductor Equipment markets. Primary services provided from their 270 person, 400,000 total sq ft. operation include electromechanical assemblies, electronics box build assemblies, product testing, sheet metal fabrication, CNC machining, welding, metal plating, wet painting, powder coating, silk-screening, panel wiring, harnesses, testing and final product packaging and warehousing.

More information about the company is available at www.RegalResearch.com. To learn more about employment opportunities, please submit your resume to careers@regalresearch.com.